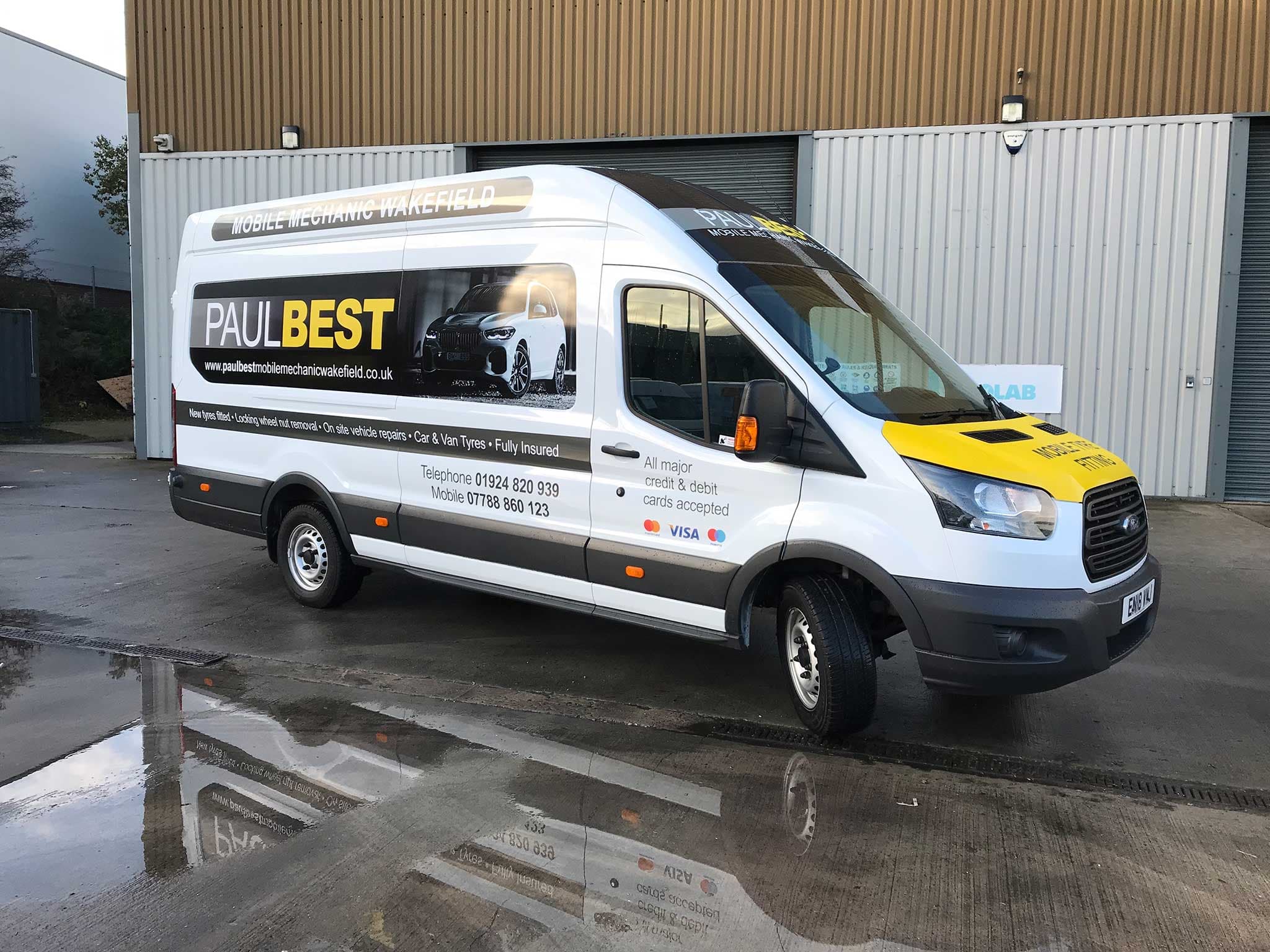 Van Graphics & Van Wrapping Services
We will create you an outstanding design, then manufacture and apply stand out graphics for your van
Fleet wrapping
Truck wrapping
Non-illuminated signs
Car graphics
Building signs
Built up letters
Window graphics
Illuminated signs
Van wrapping
Retail signs
Car wrapping
Van graphics
Tray signs
Projecting signs
Van graphics never stop working
The complete van wrapping service in Leeds, West Yorkshire
Paul Turner Signwriters specialise in wrapping vans with fully warranted graphics. We have been working with businesses from across Leeds, West Yorkshire and the UK for over 40 years. Our van vinyl wrapping will protect your vehicle and market your business whilst you're on the road.
Wrapping your van with Paul Turner means you get:
Well-designed and applied graphics to your van will generate enquiries!
A cost effective method of advertising as it never stops working!
Warranted graphics – the best Vehicle Livery decision you will ever make!
We provide our van sign writing services for small, medium and large businesses across the UK.
Whether you are looking to improve the look of an old Van. Or to fully brand up a new one. The professionals at Paul Turner can help. We have been producing our eye-catching vehicle wraps for 40 years.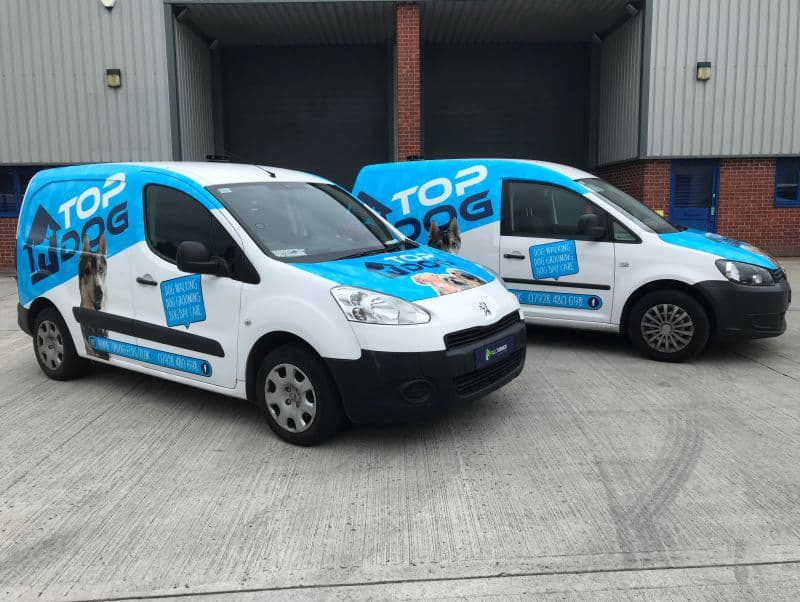 Our Van wrapping process
Design and van branding visual: Our design team will work with you to produce a van branding visual. Photos of your van would be great to determine if your vehicle has colour coded bumpers. Side – rear windows, or just flat panels. Then we need a logo, or branding theme to work with.
Once you have chosen which option is right for you, we can design your chosen project and send you a visual to approve.
The printing process: Once the design has been approved, we are then ready  to start printing. We use high quality vinyl to produce stunning graphics ready to be printed and wrapped around your van.
Fitting and installation: Once the wrap has been designed, approved and printed, it is ready to be fitted. The vinyl wrap installation team at Paul Turner are experienced and have an eye for detail. We will precisely fit your vehicle wrap, ready for its unveiling.
Graphics warranty and aftercare: Producing and installing the vehicle graphics is only part of the service. We want to ensure that your van wrap is cost-effective. The warranty ensures that the graphics will remain in good condition for a certain period. Giving you peace of mind that your graphics will look great for many years to come.
Wrapping your van with Paul Turner has never been easier. Speak to a member of our team today.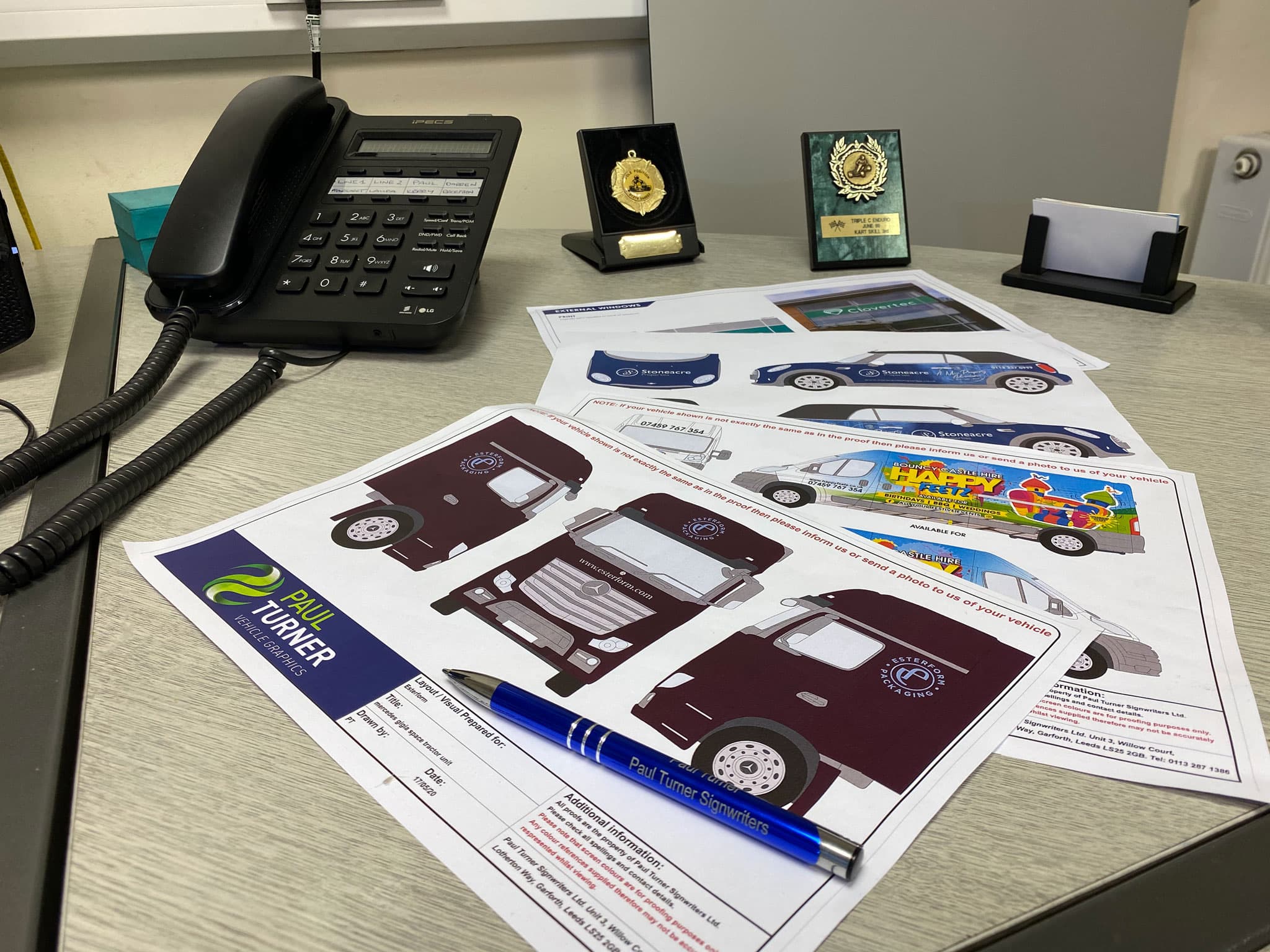 See one of our vans being wrapped
Make, model, year, colour
We have four options to help you decide what van graphics will be right for you and your budget. To see more examples of these options, please view our gallery at the bottom of this page.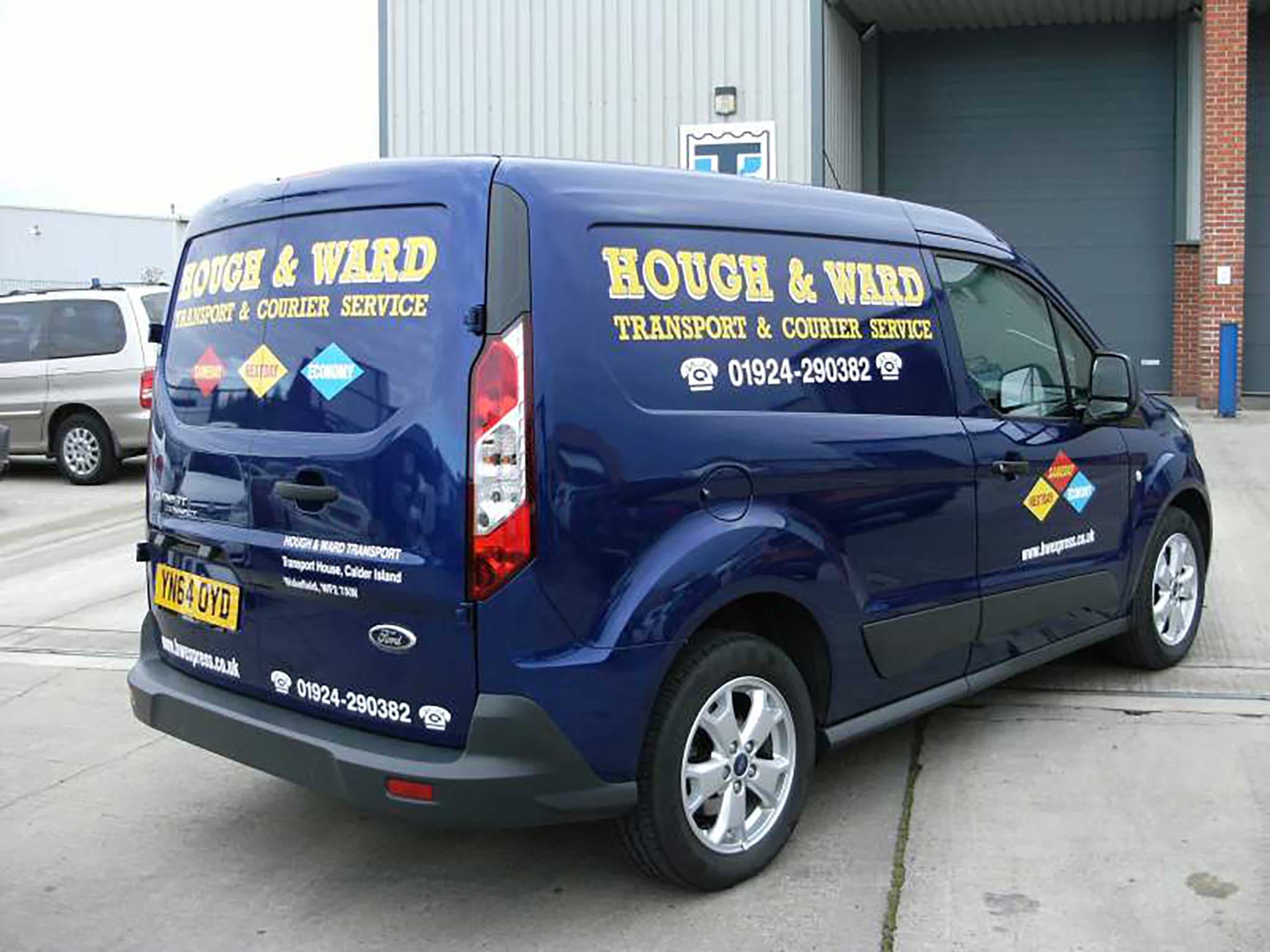 Vinyl graphics
Cost effective low price range
Printed logos & computer cut lettering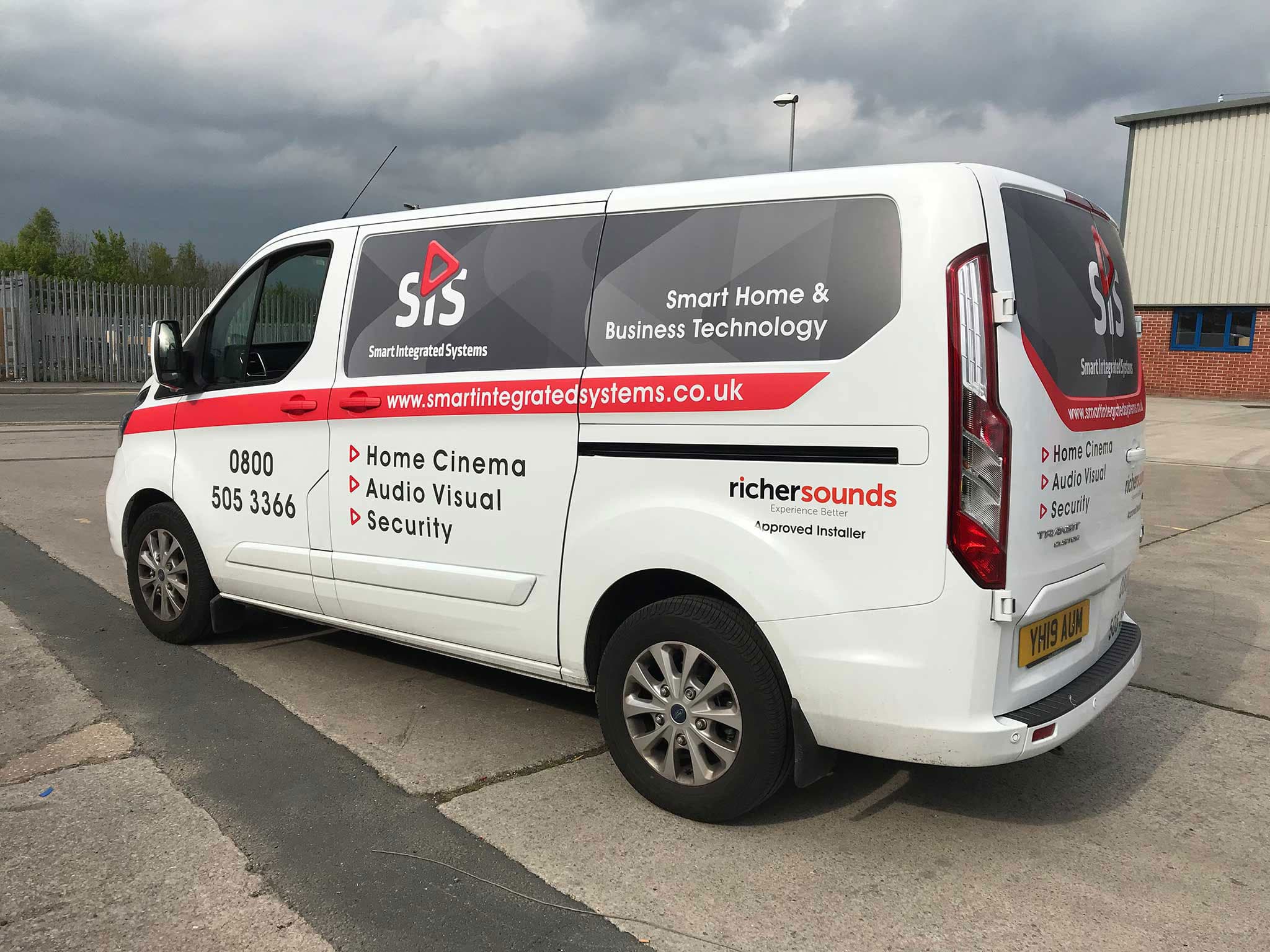 Inset panels
Value for money low to medium price range
Printed Side and Rear inset panels with vinyl lettering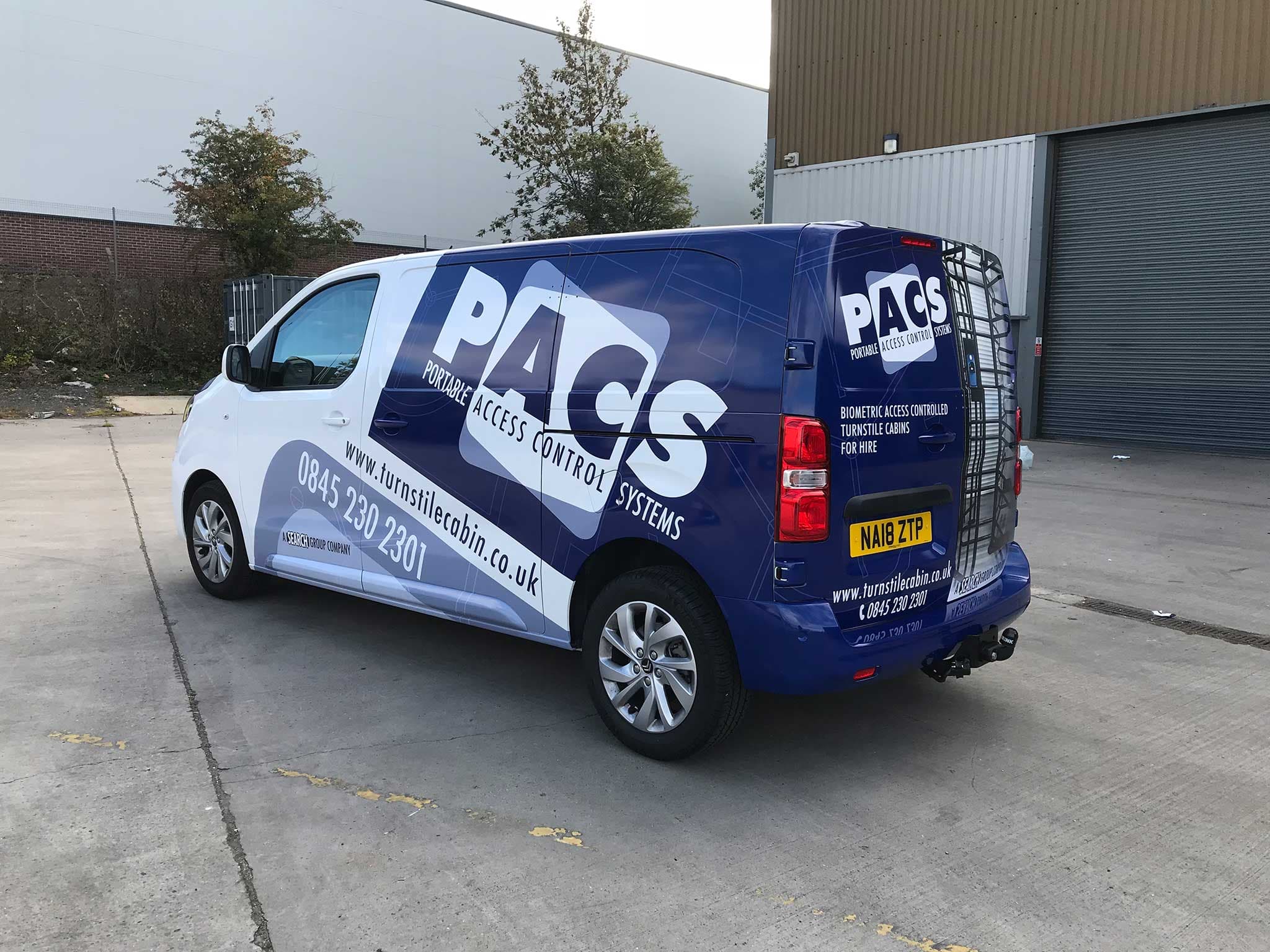 Half wrap
Medium to high price range
Printed sides and rear with vinyl lettering – eye catching gets you noticed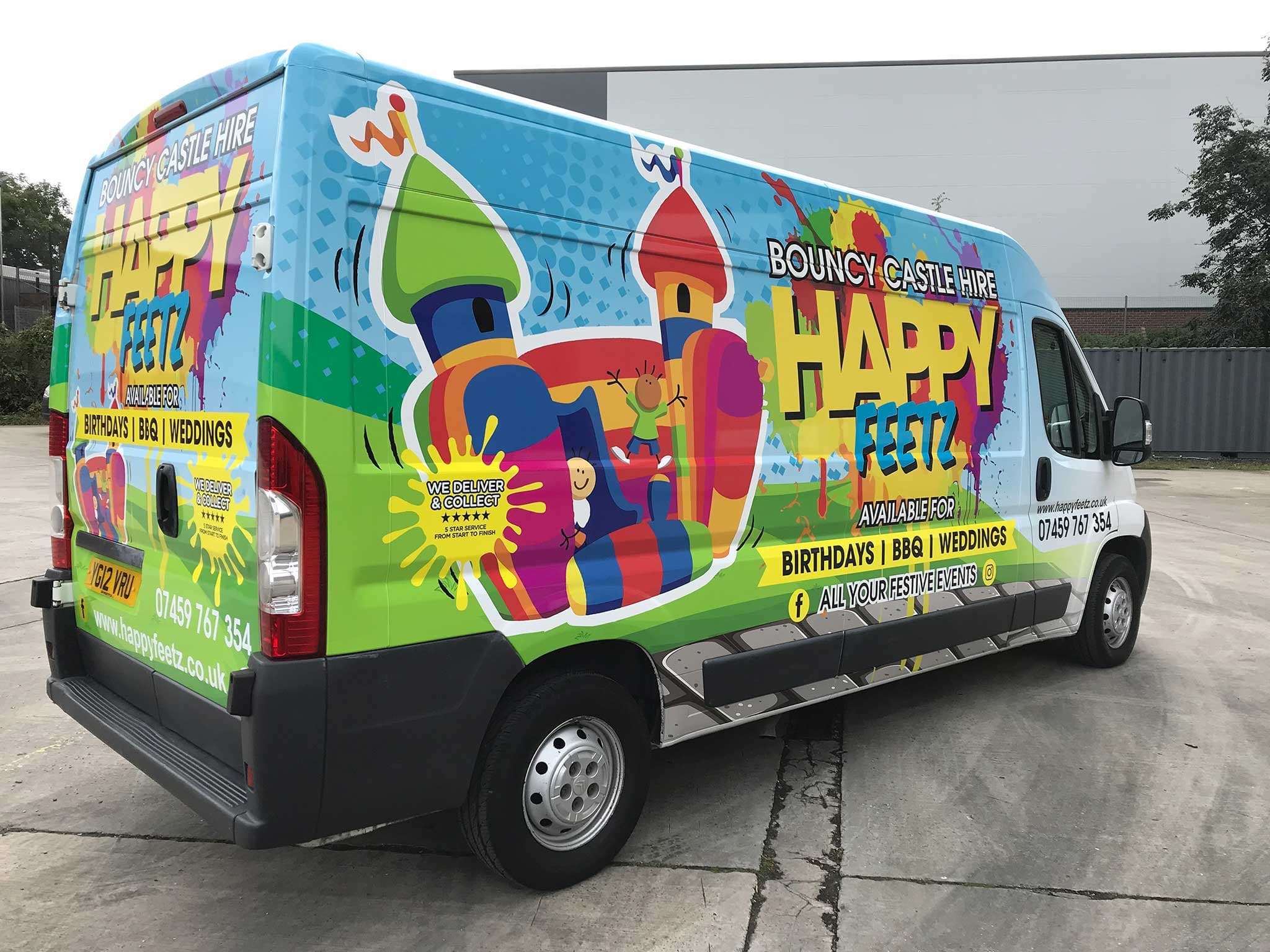 Full wrap
Wow factor – Top of our price range
Vehicle is completely covered with a digital or self coloured wrap with vinyl lettering on top
Van Wrapping FAQ's
Frequently asked questions
I don't have any artwork, can you design it for me?
The Paul Turner design team will work with you to produce an eye-catching design.  Simply give us the brief and our team will get to work. (Full proofs will be sent for your approval before we start the installation).
How often should I wash my vehicle wrap
Clean your wrap at least once a week or more frequently if your vehicle is frequently exposed to dirt or pollutants. Use a high-quality automotive sponge or a soft, clean cloth to wash your wrap. After washing, rinse your vehicle with clean water. To prevent water spots, use a chamois or silicone squeegee to remove excess water. Finally, dry your vehicle using a clean microfibre cloth.
Can I take my wrapped vehicle into a drive-through car wash?
You may take your wrapped vehicle to an automatic brushless car wash, although hand washing is a safer and more comprehensive option. Brush-based car washes can be too harsh on the wrap, leading to degradation, peeling, and raised edges. If a car wash utilises water spray without any brushes, it should be secure for most wraps.
Can I pressure wash my vehicle wrap?
If you wish to pressure wash your vehicle wrap, ensure that the pressure is under 2,000 psi. Employ a spray nozzle with a 40-degree wide-angle spray pattern, and keep the water temperature below 60 degrees Celsius. Maintain a distance of at least 30 centimetres between the spray nozzle and the car's edges.
How do I clean bird droppings, insects, tree sap or other difficult stains?
It is advisable to clean bird droppings and tough stains promptly as letting them sit for too long will make them harder to remove and could lead to permanent damage to the wrap. Soak the affected area in warm, soapy water for a few minutes to loosen the contaminants. Rinse the area thoroughly and dry it with a microfibre cloth. If stubborn contaminants persist, use denatured alcohol, 3M® Citrus Base Cleaner, Meguiar's Gold Class™ Bug and Stain Remover or a solution of two parts isopropyl alcohol to one part water. Always test these solutions on a small, inconspicuous area before use to ensure they will not harm the wrap. Avoid using solvents or oil-based cleaning products.
What should I do about fuel spills?
It is recommended to immediately wipe off any fuel spills and hand wash the affected area. Allowing the spill to remain on the wrap for too long may result in vinyl degradation. At a petrol station, a swift wipe with a wet paper towel will suffice in cleaning the fuel-affected area until you can get home to perform a more thorough cleaning.
What should be avoided when cleaning my wrapped vehicle?
Do not clean your vehicle with any of the following substances:
Solvents
Orange oil
Oil-based cleaners
Kitchen and bathroom cleaners
Oven cleaner
Engine degreaser
Can a wrap be removed from my vehicle?
The answer is: YES. If the vehicle has been wrapped with a high-quality vehicle wrap vinyl then the removal process is very easy. All that is needed is a heat source, preferably a heat gun, some experience and a lot of patience. High-quality films made by Avery Arlon and 3M are designed to leave no adhesive residue when removed
Do I need to clean my vehicle before wrapping?
A clean vehicle is required for a quality wrap. We will prepare your vehicle with appropriate cleaners for graphic installation, but it is essential that the vehicle is cleaned before being brought to our workshop. Please use only soap and water (no polish should be used). This is important to ensure that we can complete your vehicle livery within the agreed time.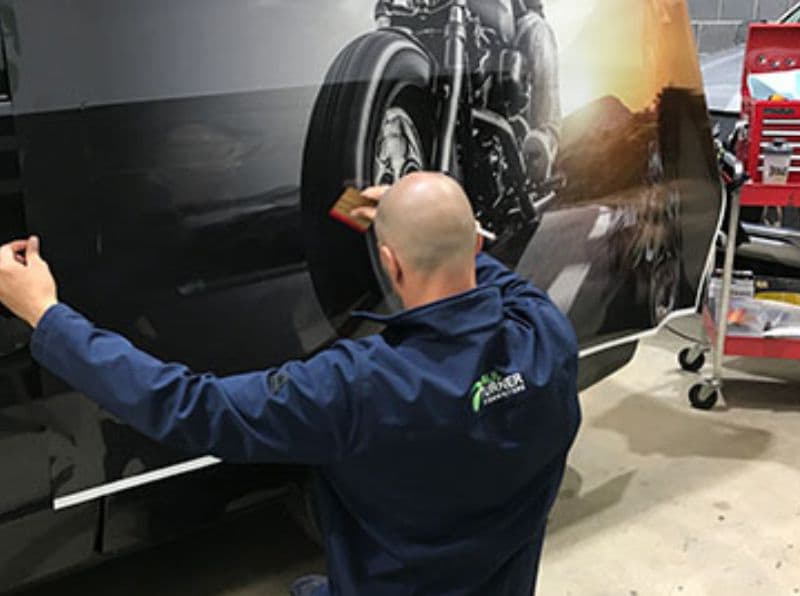 Have you got a question that hasn't been answered above?
Get in touch and ask away
Examples of our work
Click on the below filters to view the galleries of other similar services we offer
Request a quote
Get in touch and one of our helpful team will assist you with any of our services