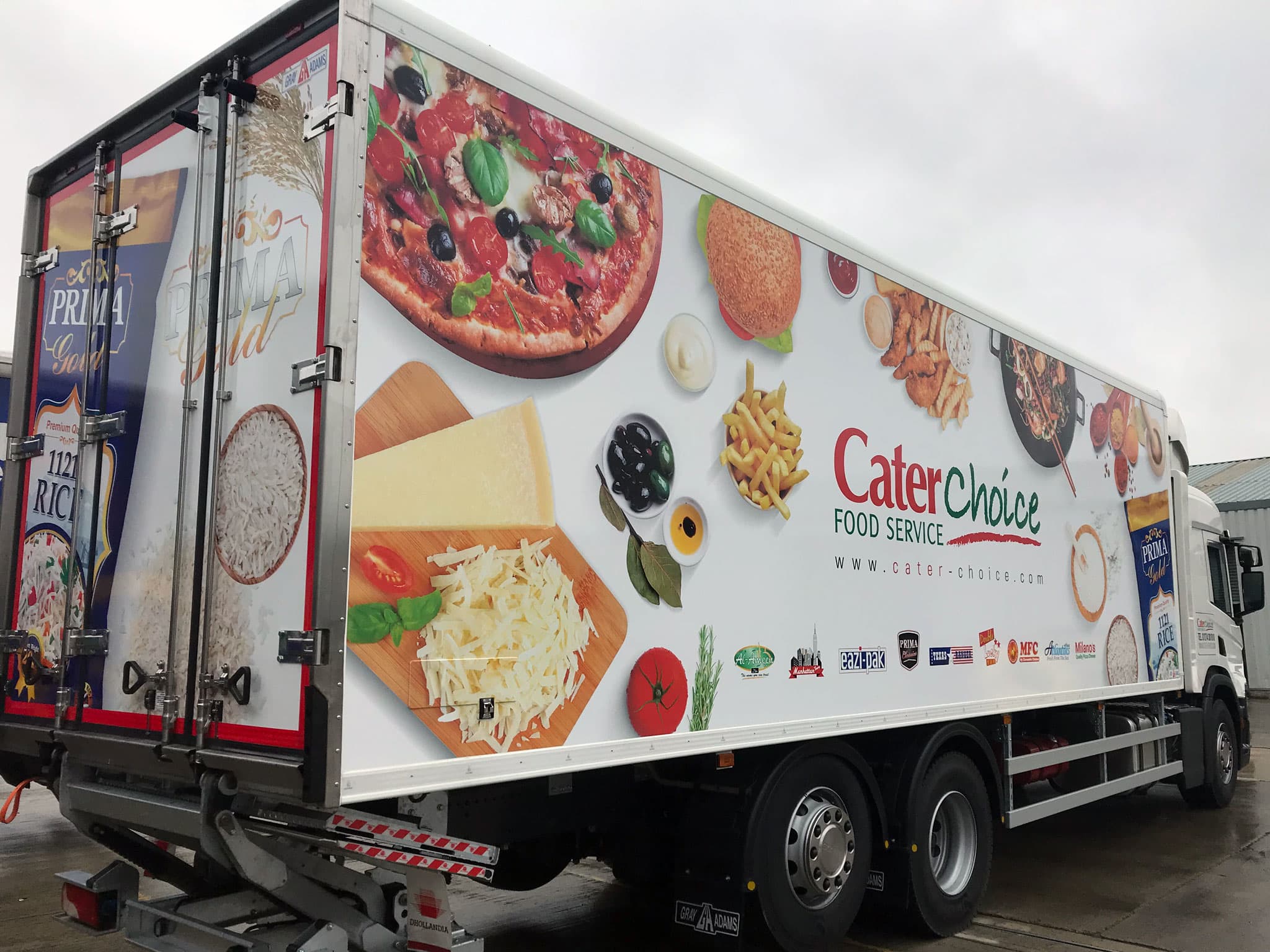 Visual advertising on the road
Truck wrapping
Professional truck graphics that make you and your products stand out from the crowd
Van wrapping
Car wrapping
Truck wrapping
Van graphics
Tray signs
Building signs
Projecting signs
Fleet wrapping
Illuminated signs
Retail signs
Car graphics
Window graphics
Non-illuminated signs
Built up letters
Professional truck wrapping & graphics services
Specialist truck wrapping in Leeds, West Yorkshire
Paul Turner Signwriters have been producing eye-catching truck designs for over 40 years. We work with commercial customers who are looking to improve brand identity. We also work on personal projects for people who simply want a badass looking truck!
Our professional printing and installation, coupled with years of experience. Ensures that wrapping your truck with Paul Turner could not be easier.
What trucks do we wrap?
We provide a comprehensive set of truck wrapping services that includes the design, manufacturing, and installation of truck graphics & liveries for a range of vehicles, including:
Tractor units

Curtain sided trailers

Rigid vehicles

Solid-side vehicles 

And more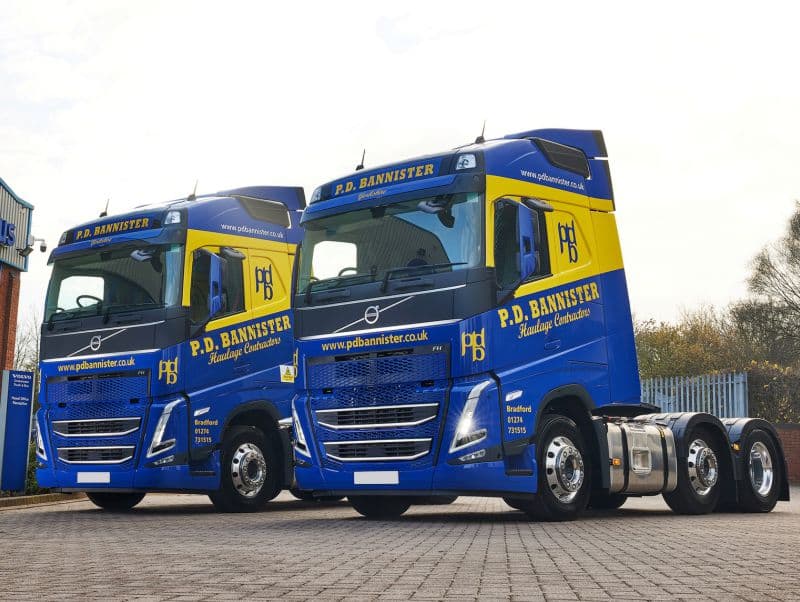 Got a specific design in mind, no problem!
We can provide a truck branding visual
Our designers work with you to produce custom truck graphic designs based on client preferences or corporate identity. Our team can marry up the design of your truck to any other commercial vehicles that you operate. Or even help you to create a brand through your vehicle.
Our wraps can be easily removed without damaging your original paint, making it a cost-effective marketing option. A digitally printed truck wrap from Paul Turner can breathe new life into an old truck, or brand up a new one!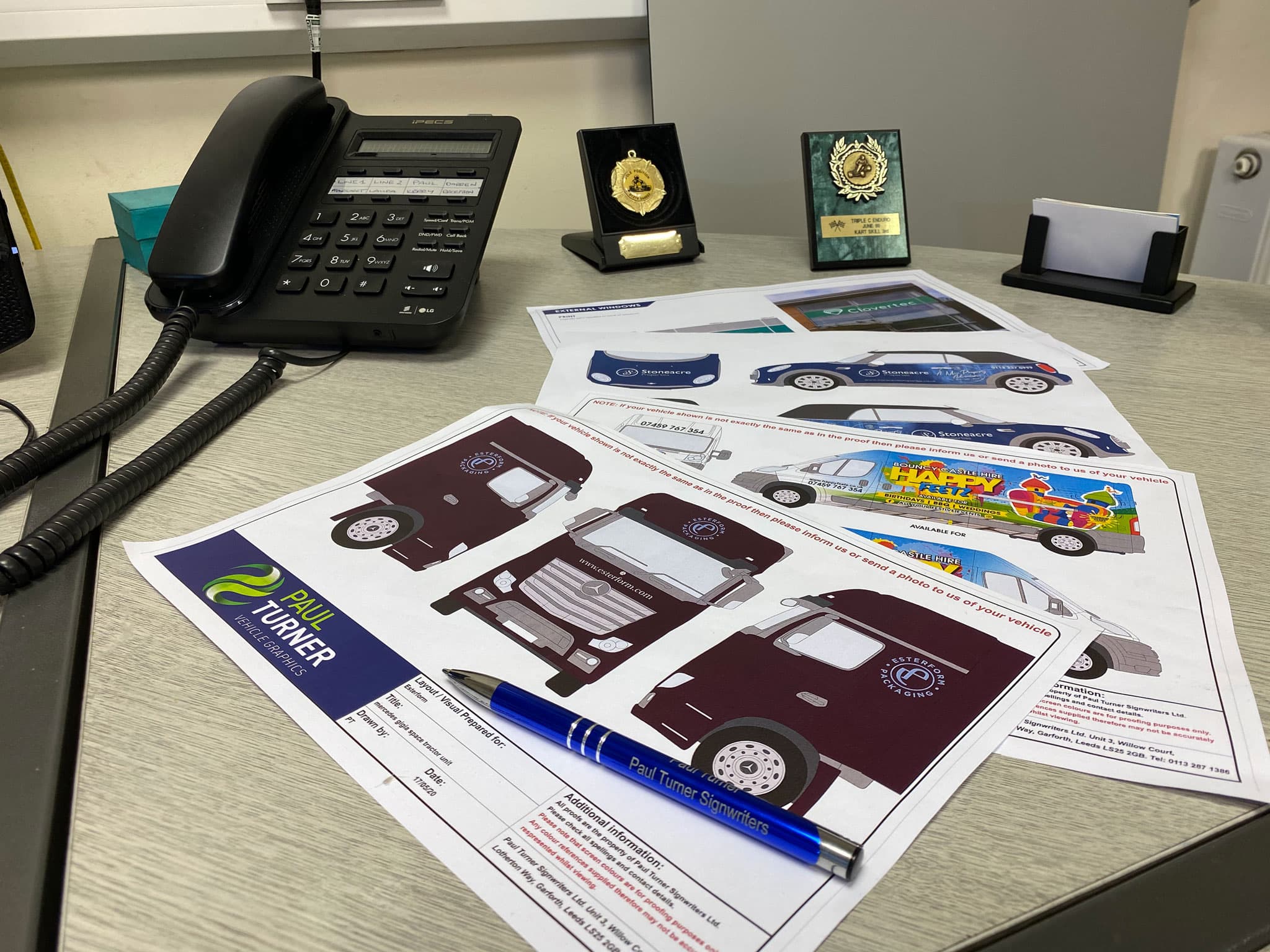 Get in touch for a truck wrap solution
How our truck wrapping process works
When you have a truck wrapped at Paul Turner Signwriters Ltd, you'll typically receive a complete package including:
A custom truck design: Typically, the process starts with a consultation to determine your needs and goals for the wrap. This is then followed by the design phase. Our professional designers will create a custom vehicle wrap design for your truck.
High quality printing: Once the design is approved, the printing process begins. This involves printing the design onto high-quality vinyl material.
Precision fitting & installation:  Finally, the professional installation process takes place. Our skilled technicians carefully apply the vinyl wrap to your truck's exterior surface.
The result is a quality wrap of your truck. Providing a highly effective advertising tool. Helping to promote your business and brand while you're on the road.
Speak to a member of our Leeds based truck wrapping and vehicle graphics team and see how Paul Turner can transform your truck.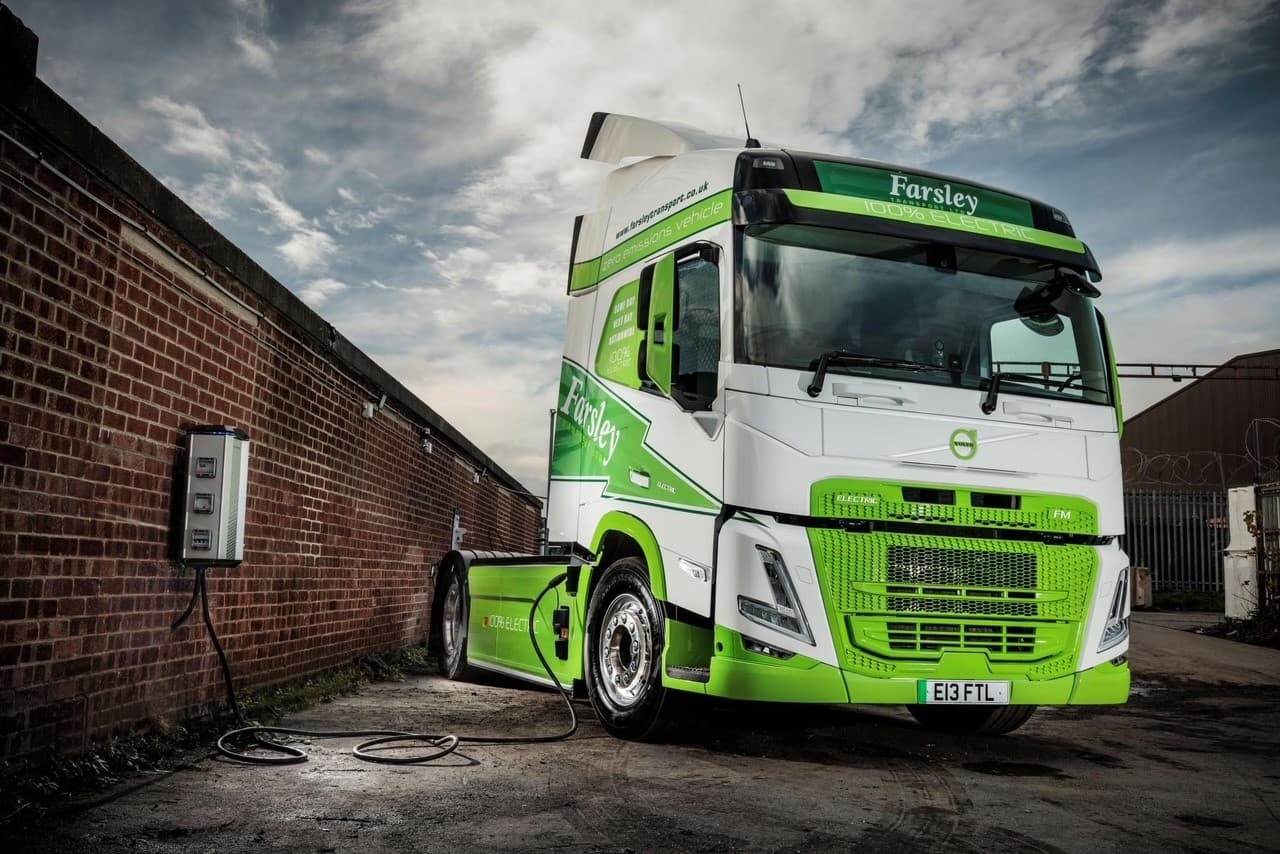 Request a quote
Get in touch and one of our helpful team will assist you with any of our services
Truck wrapping FAQs
Frequently asked questions
I don't have any artwork, can you design it for me?
The Paul Turner design team will work with you to produce an eye-catching design.  Simply give us the brief and our team will get to work. (Full proofs will be sent for your approval before we start the installation).
How much does it cost to wrap my vehicle?
The cost of wrapping depends on several factors including:
The number and size of the vehicles.
The type of vehicles required to be wrapped.
The complexity of the design.
The quantity of vinyl used.
How long it will take to install the wrap.
But we will provide a full quote and breakdown of costs before each project.
How long does a vehicle wrap last?
A wrap applied by a professional from Paul Turner can last for at least five years.  Every vehicle we wrap comes with a warranty period of up to 8 years, depending on the material used. However, exposure to extreme weather conditions, such as sunlight and heat, can cause the vinyl to fade or peel over time.
What should be avoided when cleaning my wrapped vehicle?
Do not clean your vehicle with any of the following substances:
Solvents
Orange oil
Oil-based cleaners
Kitchen and bathroom cleaners
Oven cleaner
Engine degreaser
What should I use for spot cleaning?
To remove isolated stains, utilise isopropyl rubbing alcohol for spot cleaning. After cleaning, rinse the area with cold water. Avoid using tire dressing for spot cleaning since it may splatter onto the wrap and create stains. It is recommended to refrain from wiping the wrap when it is hot as it can distort the material and lead to wrinkling.
Can a wrap be removed from my vehicle?
The answer is: YES. If the vehicle has been wrapped with a high-quality vehicle wrap vinyl then the removal process is very easy. All that is needed is a heat source, preferably a heat gun, some experience and a lot of patience. High-quality films made by Avery Arlon and 3M are designed to leave no adhesive residue when removed
Do I need to clean my vehicle before wrapping?
A clean vehicle is required for a quality wrap. We will prepare your vehicle with appropriate cleaners for graphic installation, but it is essential that the vehicle is cleaned before being brought to our workshop. Please use only soap and water (no polish should be used). This is important to ensure that we can complete your vehicle livery within the agreed time.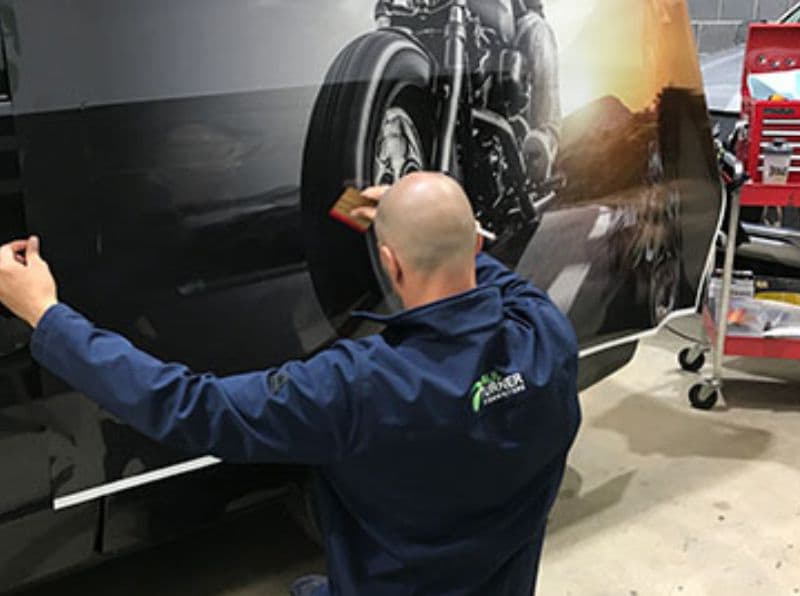 Have you got a question that hasn't been answered above?
Get in touch and ask away
Google Reviews
What our customers think
AIREflo Screed
Oct 24, 2023
Over the last 18 years we have had a large number of vehicles (both vans and HGV's) The team at Paul Turners have always been brilliant at accommodating our needs and requests. Their service and quality of work is unmatched in the area and we wouldn't go anywhere else for this...
Mellissa Cole
Oct 12, 2023
Amazing service from start to finish. They were very helpful when we needed to reschedule our slot, they did it quickly with no fuss. Thank you again, the van looks fab and your team were delightful....
Dan Leadbeater
Nov 13, 2023
Highly recommended! Ive had two vans signwritten now. The service quality & cost were superb...
Lawcris Panel Products Ltd
Nov 29, 2023
Paul Turner has been supplying and fitting vehicle livery to Lawcris Panel Products vehicles for a number of years now. The quality of the product and the service provided represents great value and the reason why we keep going back. When we update our fleet, as we have done again this year,...
Steven Foster
Oct 27, 2023
Great service & quality. 2nd time I've used them & won't hesitate to use again & recommend👌👍...
Click here to leave us a review
Examples of our work
Click on the below filters to view the galleries of other similar services we offer
Request a quote
Get in touch and one of our helpful team will assist you with any of our services